Description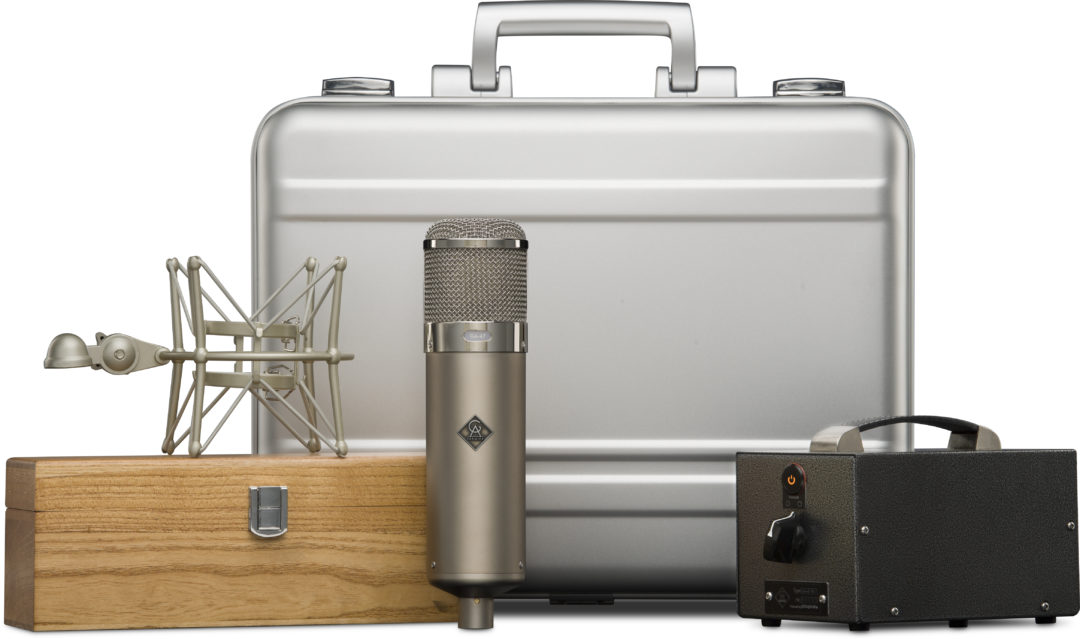 GA-47 MKII
High end, no compromise components and build quality

Hand made in small series, 50 units at a time, in a boutique style
microphone workshop

Capsules selected with very tight tolerances

New Old Stock Telefunken EF-800 tube selected for low noise
Point-to point wiring for key components
All soldering points made with Mudorf Msolder Supreme Silver Gold solder
A switch inside the microphone allows the user to select between two different sound characters: Modern and Vintage
Solid wood microphone box, sturdy metal flight case

The Neumann U-47 microphone is one of the most highly revered and sought after microphones of all times. Being a true classic, the U-47 really needs no further presentation.
Due the high cost and low availability of vintage originals, especially ones in good condition, a number of manufacturers are producing U-47 clones. The selling price of the clones are covering a broad price span, several of them are sold at high price points.
Any manufacturer putting a U-47 clone on the market is bound to get the same question: "Does it sound like a U-47?". My take is that this is the wrong question to ask, I would like to rephrase the question to: "Does it offer the classic qualities and advantages that a vintage U-47 in perfect condition do?"
The Neumann U-47 was produced between 1949 and 1965 meaning that the vintage original units are now very old and their performance do differ a lot depending on their condition. The different clones all have their specific sound character too. So, it´s not easy to say which sound is "the right one". As always, not the least as microphones goes, it will ultimately be a matter of taste.
The Golden Age Premier GA-47 MKII is the result of a lot of hard work and real world testing and the MKII version has been further refined. The end result is a microphone with a very sweet character that should appeal to a great number of users and a microphone that can be used for the most demanding recording tasks. It has proved itself to be a great all-rounder, this is not a "vocal-only" microphone.
The GA-47 MKII is not a product that is built in huge quantities on a big assembly line. It´s a product that is built by hand, fifty units at a time in a small workshop by a skilled and dedicated staff. It uses very high quality components all the way to achieve the goal of offering classic U-47 qualities.
I believe that the level of quality and dedication that the GA-47 MKII provides normally comes at a very high cost, also in the world of U-47 clones.
Bo Medin
GA-47 build info
Mic body and grille
The mic body is made of brass, the grille is made of iron.
The grille, which is a critical component affecting the sound character, is similar to the one in the U47.

Capsule
The capsule for the GA-47 MKII is designed to provide the requirements of modern day recordings by mixing the character between a vintage K47 capsule and the one from a K67-style capsule with a wide frequency response and high sensitivity. The result is a truly great sound.
Being a dual-sided one, it provides the GA-47 with both cardioid and omni polar patterns.
In order to get a good consistency between units, for each production run of 50 pcs GA-47 units, approximately 200 capsules is evaluated in order to find 50 capsules with specifications that lie within the tight tolerances.
Specifications:
Backplate material: brass
Capsule diameter: 35mm
Membrane diameter: 27mm
Membrane material:6 micron gold-coated mylar.
The capsule is mounted in a special way to minimize the effect from physical vibrations.
The sensitivity of the front and back side of the capsule do not differ more than 0,3 dB. The sensitivity between different capsules do not differ more than 0,5 dB.
The tight manufacturing tolerance will lead to a very good consistency between different GA-47 MKII units.
The capsule is specially designed to complement the electronic circuit of the GA-47 MKII to achieve a frequency response curve with a nice balance between the high, middle and low frequencies.
Tube
The GA-47 MKII uses a selected NOS Telefunken EF-800 series super low noise pentode tube connected in triode mode in order to decrease distorsion and noise. This tube is modern glass derivative of the VF14M used in the vintage U-47.
Output transformer
The GA-47 MKII transformer is especially designed with a 6.5:1 dual bobbin transformer by a reputed transformer factory. It is a replica of the BV8 transformer used in the vintage U47. It uses a high quality core material.
Capacitors and resistors
The coupling capacitor is Solen from France. It is a high balanced film capacitor made from MKP material with pure oxygen-free copper pins.  It has a delicate and balanced sound.
Other used capacitors are MIAL polystyrene film capacitors with very low loss. The resistors are ALLEN BRADLEY carbon film resistors made in the USA with vintage and warm sound.
Mic interior and cabling
The electronic circuit is built with point-to point wiring on an expensive Rogers circuit board. Teflon insulated, silver-plated copper wire is used for the internal connections.
Power supply transformer and electrolytic capacitors
The vintage style power supply PSU uses a high power R-style transformer with a low noise level and a minimal stray field. The electrolytic capacitors are of a high quality audio style type.
A simple but effective circuit uses dual-stage filtering for the filament voltage. The high voltage is precisely filtered and stabilized using an ON semiconductor zener diode.
Mic cable
The cable is specially produced using 99,99% pure oxygen-free copper, Teflon insulation, tin foil and 98% kitmesh, ie with a very high braided density of the cable shield. It has a very open and smooth sound.
The connectors are gold plated.
Mic and psu circuit in relation to the original mics
The polar pattern switch is located on the power supply allowing for easy sound comparisons.
The circuit used in the GA-47 MKII is similar to the U-47 but the component values has been adjusted to fit the EF-800 tube.
The circuit used for the power supply is also similar except for adding a zener diode to assure the voltage and current stable.
The connectors are gold plated. All three connectors are placed on one side to facilitate handling and placement.
Specifications
Frequency Response: 20Hz-20KHz
Sensitivity: 12mV/Pa
Rated Impedance: 200 ohms
Equivalent Noise Level: 10dB
Max S.P.L: 140dB
The GA-47 MKII is delivered in a metal flight case with power supply, cable, shock mount and a box made of solid wood for the microphone.
A quote from a happy GA-47 user in Portugal:
"I loved the GA47, you've really done a great great job. I used it on Vocals, Mono room, Violin (classical piece), Acoustic Guitar and it always excelled, When I set it up for a singer he asked me what just happened because it was sounding so good, that also happened with the violin player (he was the leader of the quartet and he's also the conductor of a youth orquestra that I've recorded).
That said I would like to know what is your best price for 2 more, and a couple of extra tubes."
MusicTech review
Sweetwater customer feedback
Tobitech review
Amazona.de review
Check out the Gearslutz review
George Murphy testimony video
Check out the video from the Berlin shootout
Check out these Gearslutz threads with user comments on the GA-47 and some other 47-style mics:
GS thread 1
GS thread 2
Incredible Testimony
Statement by George Murphy, head engineer at Eastcote Studios in London, about the new GA-47.
"My previous experiences with U47's have of course always been amazingly positive. It's one of my favourite microphones, whenever I work in any studio that has them, I'll always have as many of them as they have out on the floor, ready to go.
They're such a universal mic, it's tough to record anything badly with one. I was very excited to be given this microphone to try out from Golden Age, and I've incorporated it into every session I've done since I've had it. 
The first time I got it out, I was working with a female vocalist I'd never worked with before. Usually there's routine for a new singer – we'll put up a few different mics and have a little shoot out and see what sounds best. The first one we tried was the Golden Age 47 and that was the end of the test. Everybody in the room was happy; it sounded incredible. We got the singer in, had her have a listen back to it and you know, we couldn't ask for anything more from the sound, straight away that was a good sign.
Since I've had the GA-47 in the studio it's been on every session. I've tried it on so many different things just to stretch it and see what it's good at. I haven't found a source that it's bad at so far, and it's been pretty varied – as a drum overhead it shines, the top end on it is perfect for that, it's not too hyped so it doesn't make anything sound harsh but the transient response is gorgeous. Guitar amps have been beautiful and clear through it, and vocals have sounded incredible. It's an all-rounder certainly.
The thing I like the most about the sound of this 47 is it's real to me, it sounds real. It's a little bit flattering but not in a way that removes you from the source at all, it just sounds like a beautifully clear picture of everything you want to hear. I've tried a few other emulations and modern tube mics and they tend to have this kind of hyped top-end or overly reinforced low-end to try and make something sound more widescreen, but if you're recording a good source you want the mic just to do it justice and not to mess with it too much then the GA-47 does that fantastically."
Tom, our guy in France, recently used a pair of GA-47´s when recording a drum kit and more. Find his comments below.
"After we put the pair of GA-47s in a Blumlein arrangement in front of the drum kit and recorded 16 bars I played the drums with only the GA-47s to the producer and it was so great sounding he thought it was the complete drum bus! Having the mics set to cardioid helped us achieve a great balanced drum sound with minimal bleed from the other instruments in the room. The GA-47 made the drums sound fat and real without a hint of harshness, a truly beautiful sound.
For the vocal session we made a shoot-out with other great mics, and again the GA-47 made the cut. The female vocalist was sitting in the mix perfectly and with a touch of passive EQ at 10kHz it was an instant classic sound, we couldn't be happier!"
Tom Van Den Heuvel – La Forge Studio
PS
This is not an exaggerated quote as it truly is what happened and I just look forward to using them more soon!
DS