Description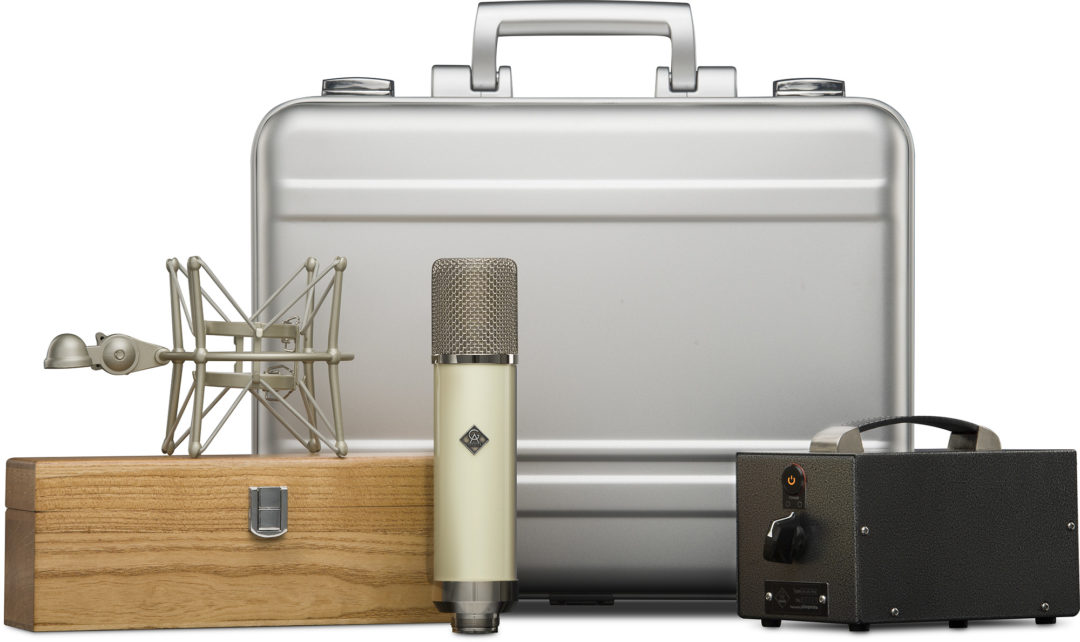 GA-251 MKII

High end, no compromise components and build quality

Hand made in small series, 50 units at a time, in a boutique style microphone workshop

Capsules selected with very tight tolerances

New Old Stock Phillip 5840W super low noise pentode tube connected in triode mode

Point-to point wiring, using an expensive Rogers circuit board

All soldering points made with Mudorf Msolder Supreme Silver Gold solder

Solid wood microphone box, sturdy metal flight case 
The Telefunken ELA M 250/251 was made for Telefunken by AKG after Neumann discontinued its OEM production of the Telefunken U-47. The Golden Age Premier GA-251 MKII is inspired by this truly classic microphone.
The GA-251 MKII shares the same design goal that was set for the GA-47: to offer the classic qualities and advantages that a vintage unit in perfect condition would provide and doing so at a low price point.
The MKII version has the following improvements:
– A new CNC produced base plate made of brass.
– Improved, more even grille
– The inner design is more tidy and stable using a an expensive Rogers circuit board with point-point wiring resulting in an ever more refined sound quality.
– A new metal flight case and black cardboard box
GA-251 MKII build info
Mic body and grille
The mic body is made of brass, the grille is made of iron.
The grille, which is a critical component affecting the sound character, is similar to the one in the ELA M 251.

Capsule
The GA-251 MKII uses a 34 mm K251 style capsule. Being a dual-sided one, it provides both cardioid and omni polar patterns.
In order to get a good consistency between units, for each production run of 50 pcs GA-251 MKII units, approximately 200 capsules is evaluated in order to find 50 capsules with specifications that lie within the tight tolerances.
Specifications:
Backplate material: brass
Capsule diameter: 34 mm
Membrane diameter: 34 mm
Membrane material: 6 micron gold-coated mylar.
The sensitivity of the front and back side of the capsule do not differ more than 0,3 dB. The sensitivity between different capsules do not differ more than 0,5 dB.
The tight manufacturing tolerance will lead to a very good consistency between different GA-251 MKII units.
The capsule is specially designed to complement the electronic circuit of the GA-251 MKII to achieve a frequency response curve with a nice balance between the high, middle and low frequencies. The result is a very smooth sound with a warm bottom and airy top end just like ELA M 251.
Tube
The GA-251 MKII uses a NOS Phillip 5840W super low noise pentode tube connected in triode mode in order to decrease the noise. The tube has the following character:
– balanced sound response
– a smooth and warm sound character and a low noise level
– long lifespan
The GA-251 MKII amplifier features a new proprietary circuit designed around the NOS 5840W tube.
Output transformer
The GA-251 MKII transformer is specially designed with a 10:1 AMI style dual bobbin transformer. It is made from permalloy steel sheet from USA and enamelled wire from Germany. It offers a wonderful sound character with a high resolution and great balance between the low, middle and high frequency bands.
Capacitors and resistors
The coupling capacitor is made by Solen from France. It is a high balanced film capacitor made from MKP material with pure oxygen-free copper connections. It has a very delicate and balanced sound.
The capsule capacitor uses NOS Siemens antique grade polystyrene capacitor to reduce loss.
The tube cathode bypass capacitor uses an ELNA OFC Cerafine high end hifi capacitor from Japan with oxygen free copper connections exhibiting a very sweet and delicate character, not the least for vocals. The other capacitors are of the low loss polystyrene type.
The resistor used for setting the capsule voltage is a high quality DALE 1% metal film resistor. The result is a very stable and consistent operating level leading to better consistency between different GA-251 MKII units.
The plate resistor uses a non-inductive resistor of the United States IRC audio with pure copper connections. The sound level is rich and full bodied.
Mic interior
The electronic circuit is built with point-to point wiring, All soldering points made with Mudorf Msolder Supreme silver gold solder
All of the inside wire use pure silver wire and decrease the loss during the circuit transmission, also it can ensure the sound quality is transparent.
All components which are connected to electrical ground is connected to the ground plane on the circuit board. All other component connections use point to point wiring which results in virtually zero loss and crosstalk.

Power supply transformer and electrolytic capacitors
The vintage style power supply PSU uses a high power R-style transformer with a low noise level and minimum stray field.
A simple but effective circuit uses dual-stage filtering for the filament voltage. The High voltage is also precisely filtered and stabilized using an ON semiconductor zener diode.
The polar pattern switch is placed on the power supply so that the recording engineer can change the polar pattern between Cardioid and Omni remotely.
A ground lift switch will help to solve mains power related noise issues that can appear in some cases
Mic cable
The cable is specially produced using 99,99% pure oxygen-free copper, Teflon insulation, tin foil and 98% kitmesh, ie with a very high braided density of the cable shield. It has a very open and smooth sound. The mic connector is an aviation style plug providing solid connections and a long life.
Specifications:
– Maximum SPL: 136dB
– Frequency range: 20Hz-20KHz
– Signal/Noise: 85dBA
– Impedance: <200 Ohm - Sensitivity: 16mV/Pa - Microphone dimensions: 50mm (diameter) * 250mm (length) - Microphone weight: 0,6kg - PSU dimensions: 200mm (length) * 100mm (width) * 100mm (height) - PSU weight: 1,5kg The GA-251 MKII is delivered in a metal flight case with power supply, cable, shock mount and a box made of solid wood for the microphone. High End ELA M 251 style tube microphone
Amazona.de review
In English
MusicTech review
TobiTech review
Christian Svedin video review
A wonderful feedback copied below from Michael Hurley, Lone Pine Studios, in Orlando Florida:
"The Golden Age GA-251 is an awesome microphone! Very warm, fat, complements every type of voice and instrument, smooth, larger than life, nice high end yet never strident or harsh. In a word, superb.
While I am no expert on the old vintage U-47, ELA-M251, etc. I have used a couple of them previously, and am pretty picky just from having done this a long time. I've bought "clone" tube mics since they first began offering them about 20 or so years ago, starting with a Rode Classic, Audio-Technica 4060, Mojave Audio MA-200, and up through more recent mics like the Vanguard V-13 and the Avantone V-12. Also, the Warm Audio WA-47 and WA 251, which are both very nice especially considering what they cost.
However, yours I believe has transcended all of these, going to a much higher level. I hope that you have much success, as this is quite an accomplishment."
Another wonderful feedback from Eliot James in the UK, he has used the GA-251 prototypes:
"I have been working with the 251 prototypes They're sounding really great. Having used the telefunken 251 (re issue) an awful lot I can honestly tell you that your mics seem to perform in pretty much the same way. I haven't done any A/Bing or anything like that but everything I have recorded with the GA mics have sounded just as I would expect from the telefunken version..this is the second project on which I will have done all vocals on the 251, plus lots of other stuff like acoustic guitars/rooms etc & Thanks so much for the loan." Looking forward to using it more next week!"
Another great feeback:
"Hey Bo, Wanted to follow-up with ya. I've had the GA-251 roughly a month now and I'm loving it. I've never used an original 251, but even-so this has been my go-to mic as of late. I love how it performs on drums, guitar and vocals. I have a Mojave MA-200 and WA-47 as my other large diaphragm tube condensers and definitely prefer the 251. It has this super pleasing high-end clarity without being over hyped. The build quality and presentation is fantastic. You'd doing excellent work over there. Excited to see what comes next!